Grand concours des 1000 abonnés !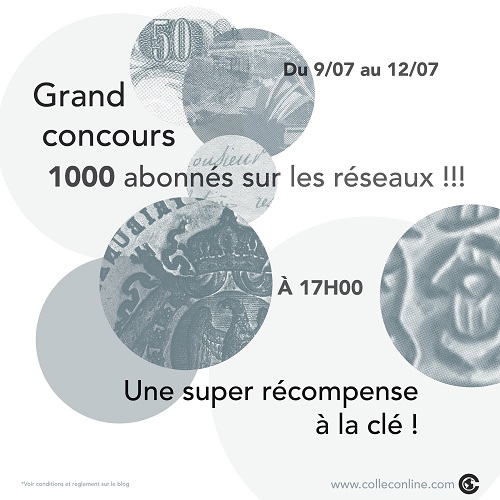 À l'occasion de nos 1000 abonnés sur nos réseaux Instagram et Facebook, nous organisons un concours !
À travers plusieurs énigmes, partez à la chasse à l'objet sur CollecOnline avec un super cadeau personnalisé à la clé !
Tous les jours, une nouvelle énigme sera dévoilée en même temps que la réponse de l'énigme précédente.
Le jeu débutera ce mardi 9 juillet et se terminera vendredi 12 juillet.
Les règles du concours:
Une énigme par jour dévoilée à 17h. Vous aurez 24h pour trouver la réponse avant que celle-ci ne soit révélée.
Uniquement une réponse par jour et par personne.
Nous dévoilerons chaque jour le classement des participants
La personne qui aura cumulé le plus de points remportera la récompense
Les réponses devront être laissé en commentaire sans données d'indices supplémentaire sur la résolution de l'énigme
Le jeu se déroulera à la fois sur Facebook et Instagram
En cas d'égalité, la personne qui aura trouvé l'objet ou trouver les réponses le plus rapidement remportera le concours
Calcul des points:
-1 point par bonne réponse (avec un bonus d'un point supplémentaire pour le plus rapide à donner la bonne réponse);
-2 points pour la première personne qui trouvera l'objet sur CollecOnline.
Condition de participation:
Posséder un compte sur CollecOnline.

La récompense:
Une journée de travail de notre graphiste pour réaliser une bannière, un poster, un mug ou tout autre réalisation pour mettre en valeur votre collection.
English version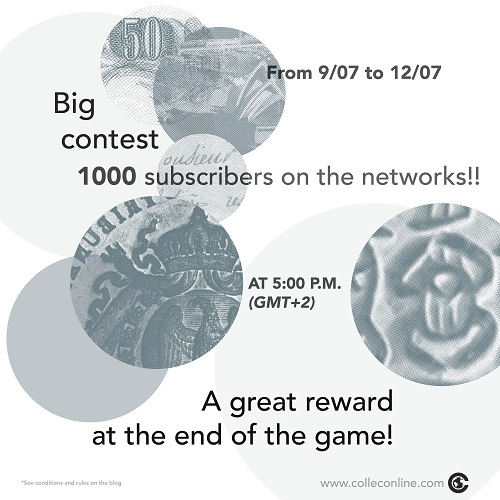 On the occasion of our 1000 subscribers on Instagram and Facebook, we are organizing a contest!
Through several riddles, go hunting for items on CollecOnline.com with a great personalized gift!
Every day, a new puzzle will be revealed along with the answer to the previous puzzle.
The game will start on Tuesday, July 9 and end on Friday, July 12.
The rules of the competition:
One riddle a day revealed at 5:00 p.m. (GMT+2) You will have 24 hours to find the answer before it is revealed.
Only one answer per day and per person.
We will show you the ranking of participants every day
The person who has accumulated the most points will win the reward
You have to write the answers in the comment without additional time under the post
The game will take place on both social networks, Facebook and Instagram
The person who finds the object or the answer as quickly as possible will win the competition.
Calculation of points:
-1 point per correct answer (with a bonus of one additional point for the fastest to give the correct answer);
-2 points for the first person who finds the object on CollecOnline.
Condition of participation:
Have an account on CollecOnline.
As a reward:
One working day offered by our graphic designer to create a banner, a poster, a mug or any other realization to highlight your collection.