Collectonline: Concepts of Collection & Object, the Common Mistakes.
This short article will explain the most frequent errors encountered on CollecOnline. You might think that you know the platform like the back of your hand, yet some features may have sneaked around you!
Collection vs Object, What is the Difference ?
I will try to share with you in this paragraph one of the most common problems encountered by a new user on CollecOnline. Before adding a first object, it is necessary to create a first collection. A collection should be seen as the directory that hosts a set of objects. It is illustrated by a single image, and a description. You can create as many collections as you want, each containing a variable number of objects. That's where the trouble starts... A part of our members think of creating an object when creating their collection, de facto missing the majority of the site's functionalities.
We have tried many things in the last few months in order to avoid any confusion:
Adding a "Getting Started on CollecOnline" insert on your news wall
Displaying an animated tutorial when you first click on "My collections"
Creating a video tutorial on YouTube
But nothing helps, to our great surprise some users still fall into this trap ... Have you had any difficulty understanding how it works? If so, we invite you to leave a comment with your impressions on this regard and on how we could have facilitate the understanding.
Categories and Characteristics, What is the Difference ?
One of CollecOnline's strengths lies in its classification tree. Over the years and with the feedback from collectors, we have been able to build an extremely precise classification tree on certain themes. We are always happy to discuss with any member who would like to help us develop their collection and precise a thematic.
Classification Categories:
Our classification trees have up to 5 levels of depth. It is good to know that an object will inherit by default the category of its parent collection, which then saves time when adding objects. It is however possible to refine the category of its object afterwards. To illustrate, let's imagine the following collection:

You will be able, and it is even desirable, to refine the classification of your object: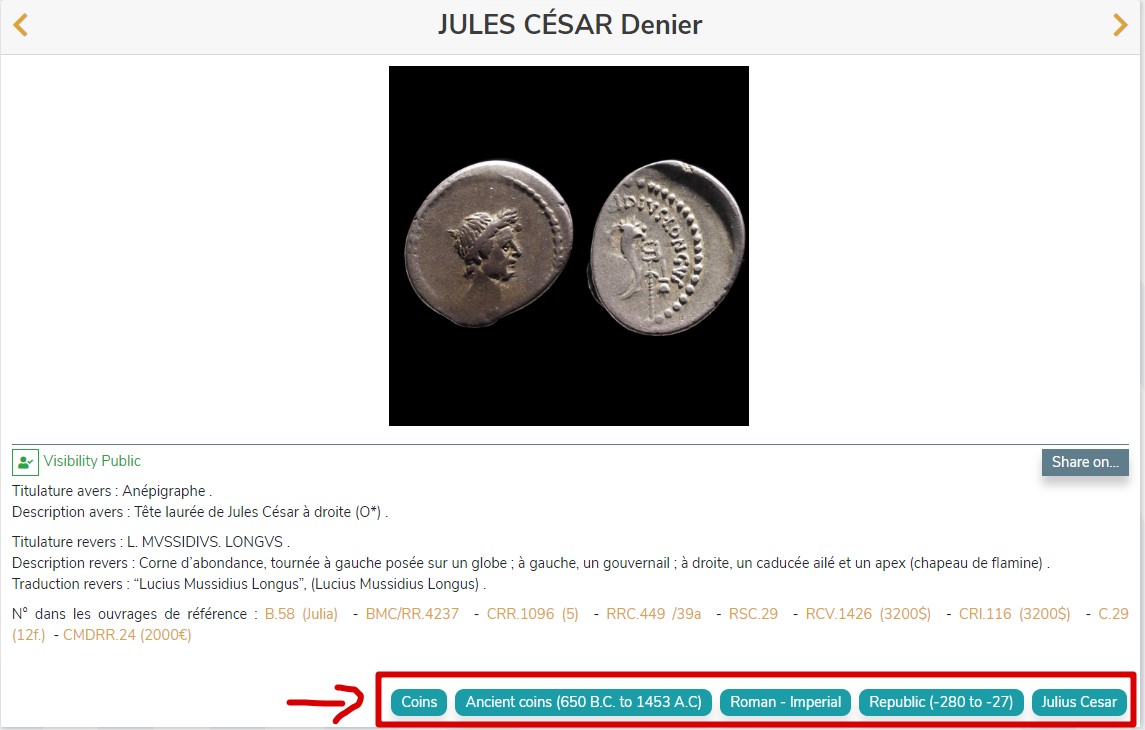 A fine classification allows you to find an object more easily in our search engine. Cherry on the cake, if your object is posted publicly, you participate in the creation of a large database, which can be very useful to identify an object: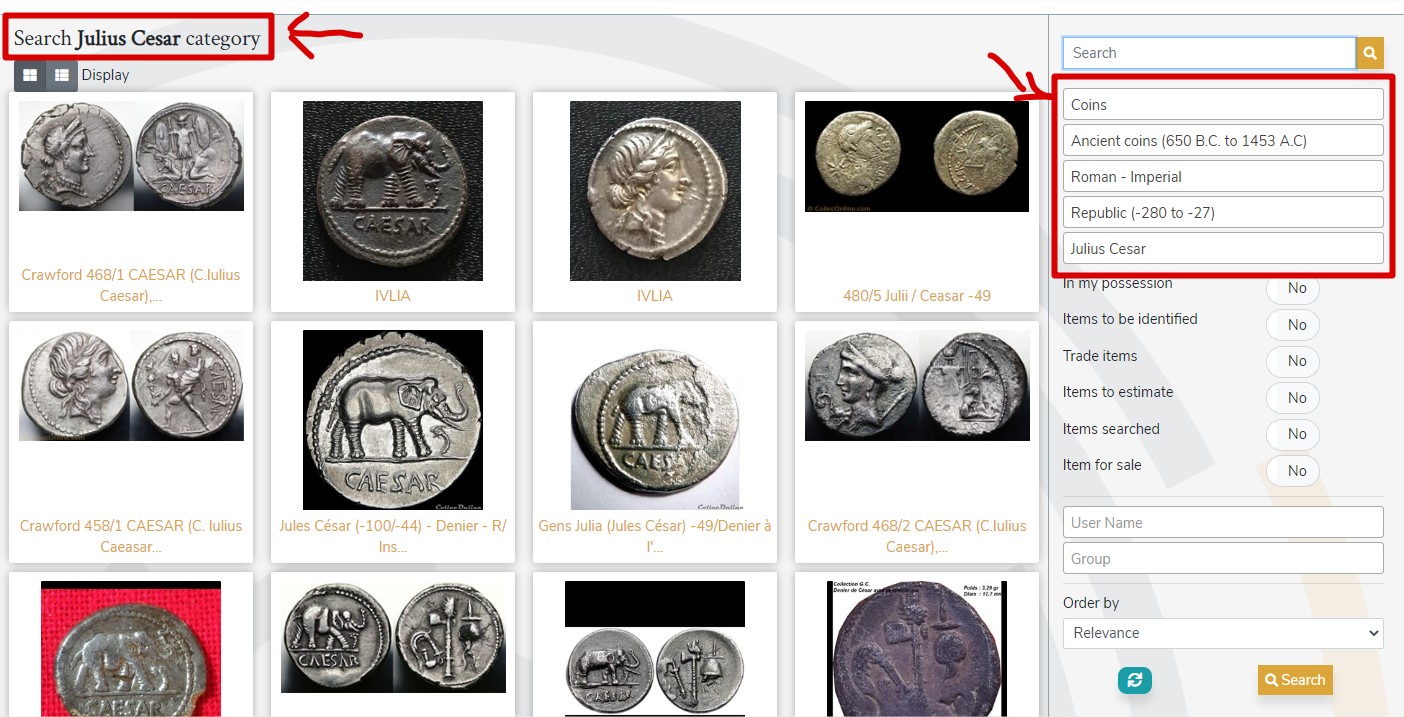 Characteristics:
In addition to categories, you will be able to associate characteristics to your collectibles. To continue my example, Julius Caesar's previous denarius was adorned with several characteristics: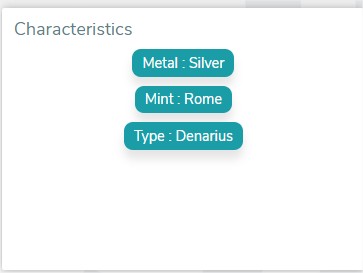 In the same way as for the categories, adding characteristics to your objects will allow you to facilitate their search: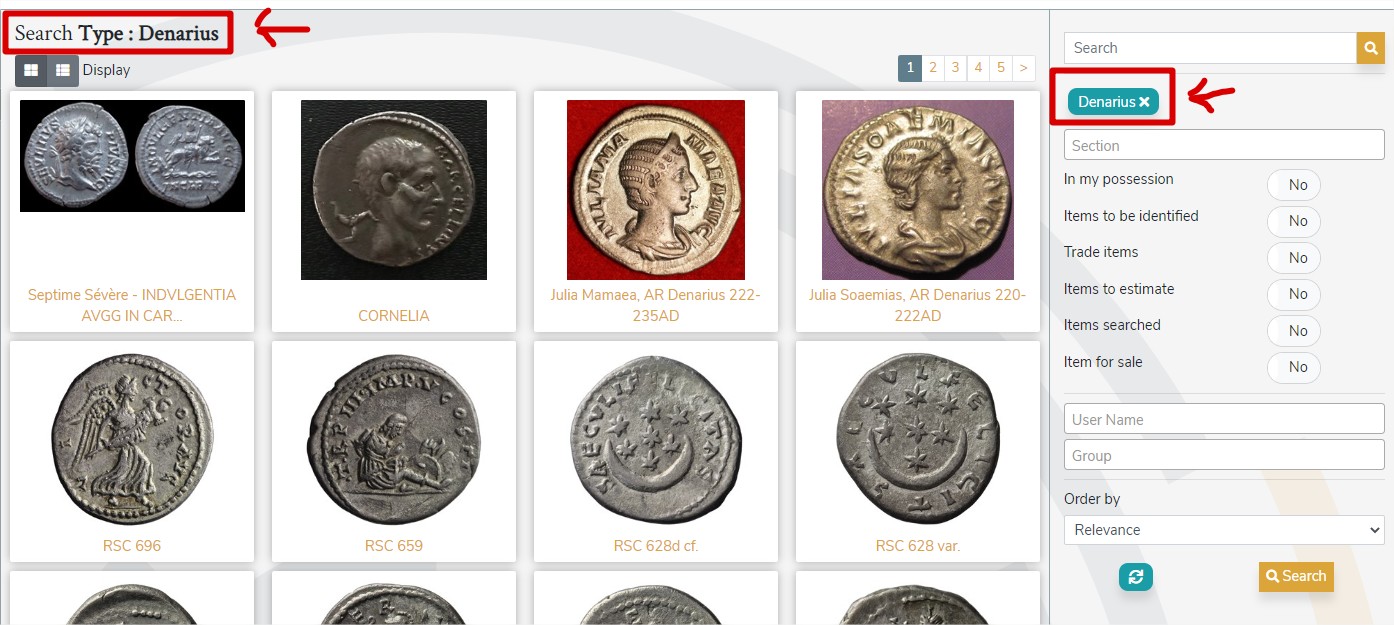 It's good to know that the more precise you are in choosing your category, the more features will be available. On the category Coins, you will have access for example to the characteristics common to all the currencies: Metal, Rarity, Quality... If you refine the ranking of your category up to Currencies > Antiquities > Roman - Imperial, you will have access to the following additional features : Mint, Type...
Collectonline With or Without a "t" ?
Let me give you a bit of history before I explain this intriguing title. Finding a trademark is no easy task. In 2012, when the idea of CollecOnline, which wasn't yet called CollecOnline at the time, began to sprout in our heads, more than once we got excited about a name. This enthusiasm often ran up against reality for different reasons:
Somebody had the idea before us
The domain name was already reserved
The idea that seemed good to us did not get the effect we got from our target audience
We finally managed to find our brand, CollecOnline. We hurriedly filed with the INPI (French copyright authority) and reserved the domain names on OVH. Phew! of relief, the adventure could finally begin! Over the years, something we hadn't anticipated, we realized that it was natural for many people to call us Collectonline! The consequences of this little mistake is unfortunate because our site is not at all visible during such a search.
The interest to explain all this to you in this article? Well, we hope that thanks to this article we will be able to position ourselves on the word Collectonline during a Google search! This is what we call web referencing (SEO). The simple fact of filling an article with a word with a spelling mistake can allow you to position yourself on it.
Thank you for your attention, we hope that this article helped you find new ways to enjoy CollecOnline. Feel free to leave us a comment or contact us if you encounter any issue on the platform.
Wishing you a most pleasant week, Loic.
More how-to articles are available here if you would like to know more (they are in French though):
Tips and tricks about CollecOnline; Les trucs et astuces sur CollecOnline
Feedback on the satisfaction survey; Retour sur notre enquête de satisfaction