Coin collecting : getting started, choosing your theme, identifying...
The world of numismatics and coin collecting can be incredibly rich for those who know how to pay attention to the details of these tiny pieces of art. A coin is the testimony of an era, a history. It can tell us about a distant civilization, bring a forgotten leader out of oblivion or tell us myths and legends. Holding a Roman coin in the palm of your hand is like touching 2000 years of history with your fingertips.
The intrinsic value of a currency which was until recently its weight in metal (historically in gold, silver or bronze) is not its only value. Coins have always been tools of religious or political propaganda. The priority of a sovereign acceding to the throne was often to begin by minting a coin in his effigy in order to disseminate in his kingdom.
Whether you are an experienced numismatist or just a lover of ancient coins, we will try to answer some questions you may have already asked yourself.
How to estimate the value of a coin?

What is a coin collection?
First of all let's go back to the definition, a coin collection is simply a gathering of coins. In most cases a collector will have affinities of his own, whether it is a period, a metal, or a module. We can therefore very often define a collection as a gathering of homogeneous coins to create a collection theme.
Numismatics is considered as an auxiliary science whose aim is to study coins with a scientific or archaeological purpose. The numismatist will classify, date and create a set of coins for this purpose. It is therefore possible to be a numismatist without being a collector, and vice versa!

How to start your coin collection?
The novice numismatist can start his or her journey as a collector with an intriguing find. During a stroll through a flea market, you come across a mysterious old coin and suddenly end up with the object in our pocket. After a few hours of research on the internet, you can finally manage to make this find talk.
But what is the follow-up to this raising passion? What new currency to buy? When you start a coin collection, this question often arises. The world of collecting is so vast that it is sometimes difficult to choose your first collection theme. Answering these few questions could help you:

Ancient, medieval or modern coins, which period to choose?
The following table is very subjective. I have tried to classify the different periods commonly collected according to 3 criteria:
Accessibility: easy to find and identify a currency, ideal to start with...
Engraving quality: a totally personal criterion integrating the relief of the coins, the diversity of the coinage and the talent of the engravers
Budget: acquisition cost
| | | | |
| --- | --- | --- | --- |
| | Accessibility | Engraving | Budget |
| Roman | ⭐⭐⭐ | ⭐⭐⭐ | ⭐⭐⭐ |
| Greek | ⭐ | ⭐⭐⭐⭐ | ⭐⭐⭐⭐ |
| Celtics | ⭐⭐ | ⭐⭐⭐ | ⭐⭐ |
| Byzantines | ⭐⭐ | ⭐⭐ | ⭐⭐ |
| Merovingian | ⭐ | ⭐⭐ | ⭐⭐⭐⭐ |
| Carolingian | ⭐⭐ | ⭐⭐ | ⭐⭐⭐ |
| Feudal | ⭐⭐ | ⭐⭐ | ⭐⭐⭐ |
| Royal | ⭐⭐⭐ | ⭐⭐⭐ | ⭐⭐⭐ |
| Modern | ⭐⭐⭐ | ⭐⭐ | ⭐⭐ |
| Euros | ⭐⭐⭐⭐ | ⭐ | ⭐ |
Ease of identification, budget, engraving quality, module, diversity, difficulty of acquisition... Each of these periods will have its own characteristics. Some will appreciate Greek coins for the talent of their engravers who make each coin a true miniature work of art. Others will privilege modern coins for their accessibility and the possibility of enjoying themselves at very low prices.
Famous Athens tetradrachma with the owl

How to choose a collection theme?
Once you have chosen your favorite period, you will soon realize that you need to refine your collection theme if you want to create a homogeneous whole. To illustrate the possibilities, on a period I know well, the Roman Empire, you can define your theme by choosing among the following criteria:
Metal: Gold, Silver, Bronze...
The module: Sesterce, Denier, Aureus, Quinary...
The mint: Lyon, Arles, Rome, Trier...
The theme: mythological, animal world, historical event, architecture...
An emperor: Marcus Aurelius, Nero, Commodus...
Accidental hits: incusing, overstriking, treflée...
As an example, here are my different collection themes:
One Roman imperial coin per emperor...
Busts that are out of the ordinary (equestrian bust, battleship, ...)
Incuse coins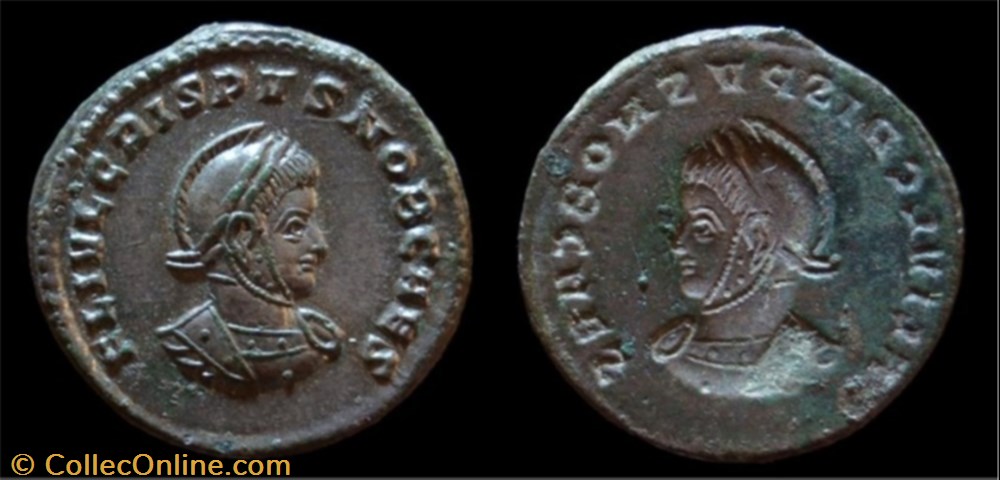 Example of an intaglio coin with an intaglio imprint reversed on the reverse as a result of a minting accident

What budget to allocate to your collection?
Quantity, quality or rarity? If you're not as rich as Croesus, you're going to have to make a choice. Unfortunately, it is not possible to acquire high quality rare coins every day. You will have to think about your budget. Some collectors prefer to buy a few coins a year just by targeting prestigious currencies, while others will enjoy buying coins each week. In any case it is important to integrate this component when starting a collection to keep it a pleasure.
There is nothing worse for a collector than having to part with his collection built up over several years because of financial issues. It is therefore essential to define the appropriate budget. And try to stick to it.

Difficulty of identification
Some coinages are not easily accessible. Roman coins for instance, as soon as you have the different identification keys it is rather easy to identify a currency. The legend is in Latin, so the name of the emperor is perfectly legible. There are many books, and many online resources.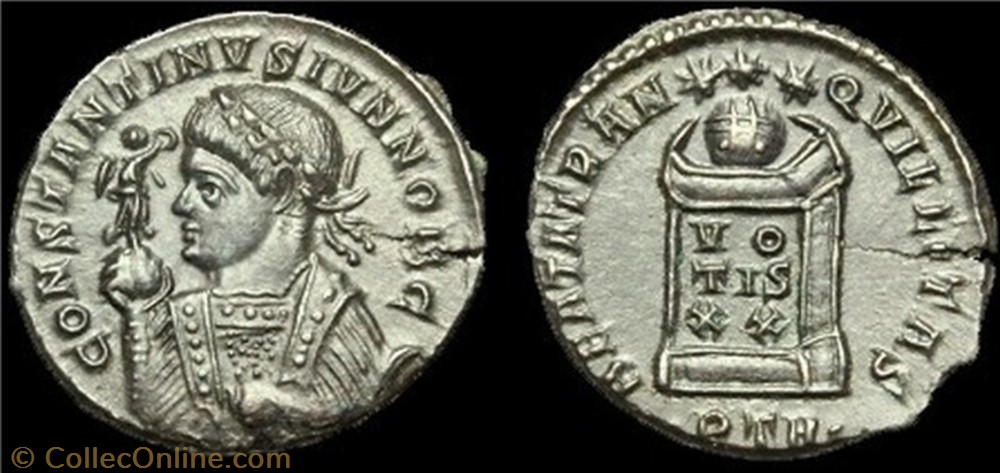 Legend of obverse CONSTANTINVS IVN NOB C for Constantin II
But wait... Let's not forget Roman provincial mint! The legend in Greek is more difficult to understand, various modules, rarer works, portraits sometimes far from the representations that can be found on imperial coins... You could spend long evenings tearing your hair out to find out what your coin is!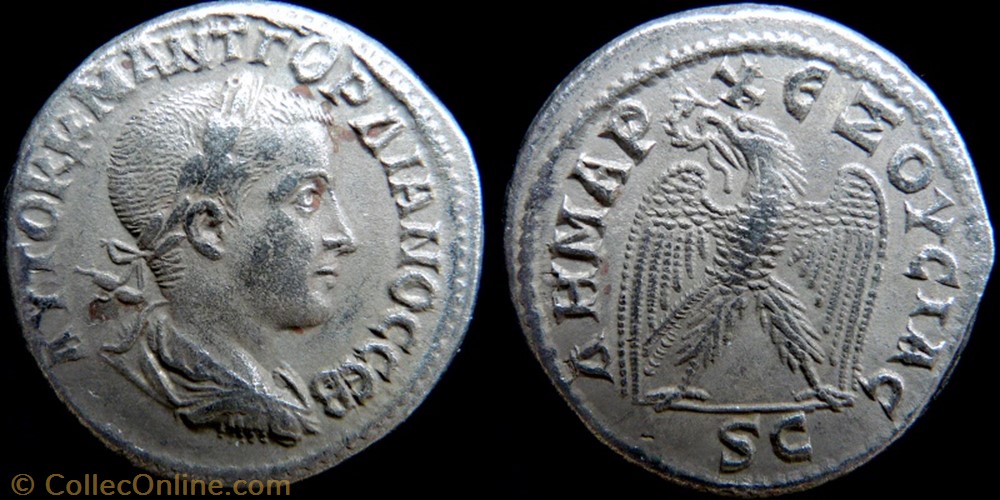 Légende d'avers ΑΥΤΟΚ Κ Μ ΑΝΤ ΓΟΡΔΙΑΝΟC CΕΒ pour Gordien III
Modern (post-1790) coins are rather simple to identify. There are many books and content about identification and quotation. Mints are known, rarities well identified, the different periods documented. It is therefore very simple and quick to put an identification on a currency for those who know the right resources to use (book or online database).
For collecting to remain a pleasure, it is therefore important to choose a theme that fits your character!

How to estimate the value of a coin?
I encourage you to first try to present your coins on CollecOnline to obtain identification. We have developed an option on your object files that allows you to tell other members that your object is to be identified. Our members will be happy to come and give you a hand if they see that you need a little help!
One of the most important things you can do to identify a currency is to spend the necessary time on it by looking at the different resources at your disposal or by exploring the web. There are many specialized or generalist databases:
CollecOnline - Our database of public currencies contains several tens of thousands of references.
Acsearch- Archive of auctions of currency, banknotes and antiques
CGB - Numismatic cabinet with a massive sales archive base
Nummus-Bible - The Bible of Romain coins from 313 to 476 ap. J.-C
Probus Coins - Search engine and identification of Probus from Aureliani
Wildwinds - English-language reference site for the referencing of ancient currencies
Les Dioscures - Coinage database of the Roman Republic
You will also find a profusion of specialized forums where enthusiasts and specialists will take pleasure in answering your questions if you care to give them all the information necessary for the correct identification of a coin (a nice photo, the weight and the diameter) :
Forumfw - Forum specialized in antique coins
Coin Talk - English-speaking general numismatic forum
Forum Ancient Coins - English-speaking forum specialized in ancient currencies
Numismatik Forum - German general numismatics forum
Nummis-Bible - Forum about Roman coins from 313 to 476
Numismatique - General numismatics forum
Omni - General numismatics forum
Numismaticom - The site specialized in the identification of collector coins
There are also many groups on Facebook that you can easily find with a quick search. Do not hesitate to leave us a comment with the forums or database that we would have forgotten!

How to estimate the value of a coin?
Whether you are a buyer or a seller, you will need to be able to estimate a currency at the right price before a transaction and this is not always an easy thing to do.
Usually the more modern a currency is the more money you will find. It always works pretty much the same way, you will notice that the quotation of the currency varies according to its condition, rarity and interest of collectors.
See below the example of a 1 Franc Morlon 1935 coin, you will see that its price can vary from 10€ in the "B" state to 520€ in the "FDC" (Fleur De Coin) state, that is to say a multiplying factor of 50!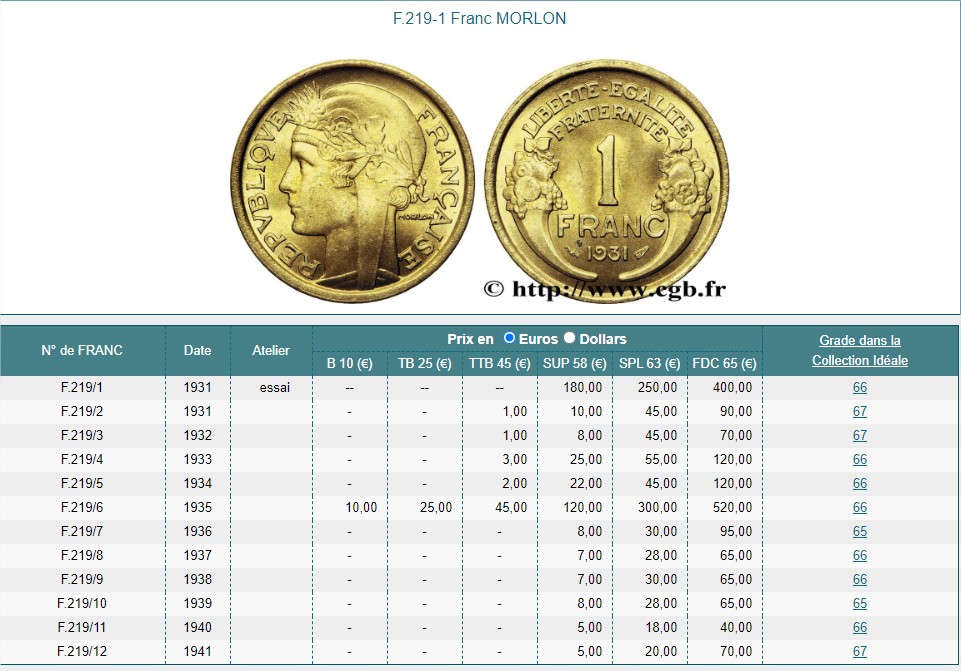 Source : https://www.lefranc.net/monnaie,1-franc-morlon,219.html
The quotation index will give you an idea of the interest of a currency, but it will be necessary to take the indicated estimated price with tweezers. In reality that price is fixed from the moment a transaction is made between a buyer and a seller, and many quotation indexes are exceeded by market prices whether up or down.
An excellent way to get an idea of the real price of a currency is to go on Ebay. But beware, the visible currencies are the currencies that have not yet found taker, certainly because too expensive! The trick will be to display only the items that have been purchased by clicking on the "Sold Items" filter.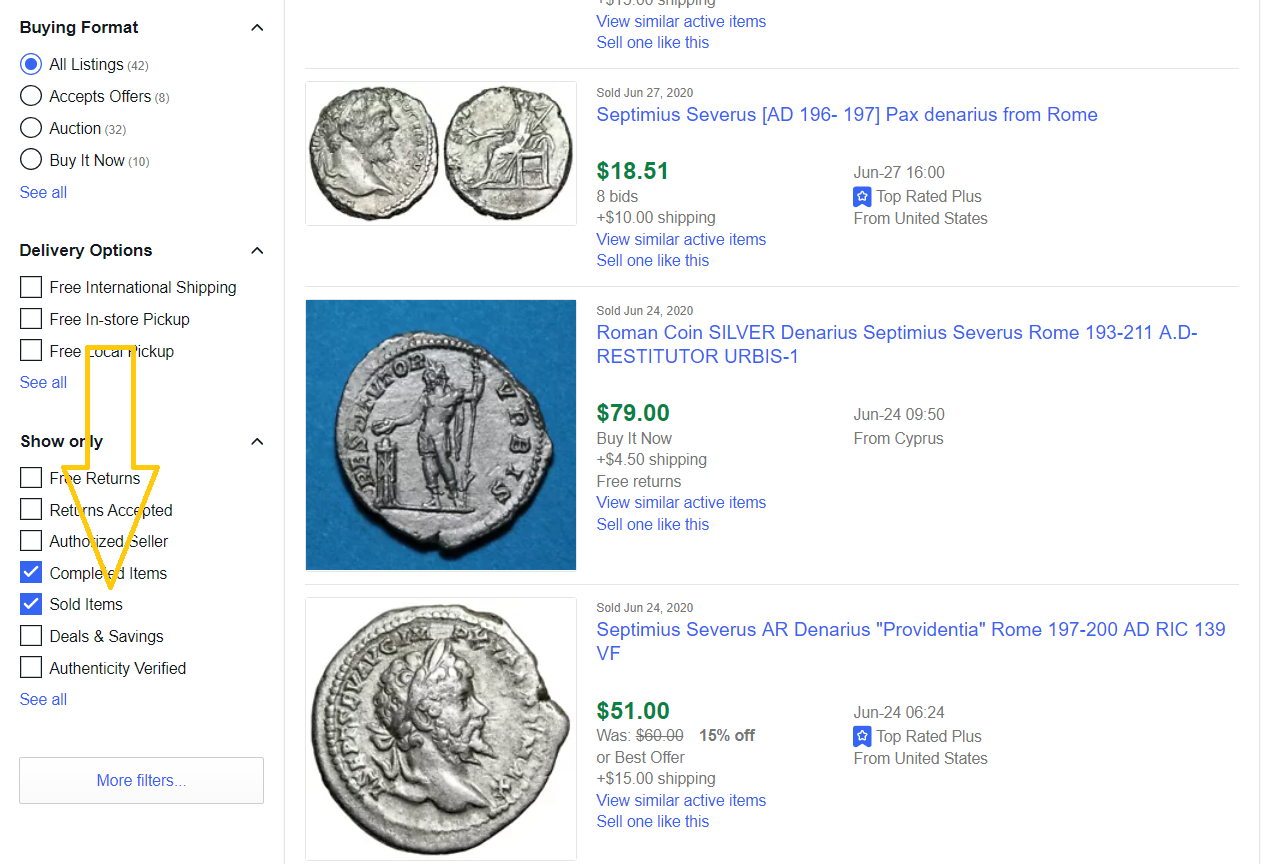 You also can go to auction house sites where the prices of sales completed are often indicated. But in this case be careful! It is necessary to know that the prices obtained by the big houses are very often far from the prices agreed between private individuals for various reasons:
Professionals apply around 20% to 30% fees in order to cover costs and make benefits
The delay between a deposit in the shop and its sale can be up to several months
Half of the objects put to sales never find a buyer
Professionals guarantee the authenticity of your purchase
You always get a legitimate invoie
For all these reasons, a price may vary from simple to double depending on the acquisition channel.
We hope that this article was interesting you, we invite you to make your comments in order to enrich this article with good links and relevant advice. 😇